Features Technical Information Options
Everclear
&reg
Intercoms
Capabilities: 2-way intercoms for 1 to 8 car elevator groups with up to 4 master stations.
Meets ASME A17.1-2010/CSA B44-10 for elevator communication from a location inside the building to the car.
Optional Surface Mount Hall Station fixture Surface Mount Machine Room Master
saves cutting into marble or masonry walls. Station, 1-car, 5" x 12" x 2" deep
6-1/2"x 12"x 1-3/4" deep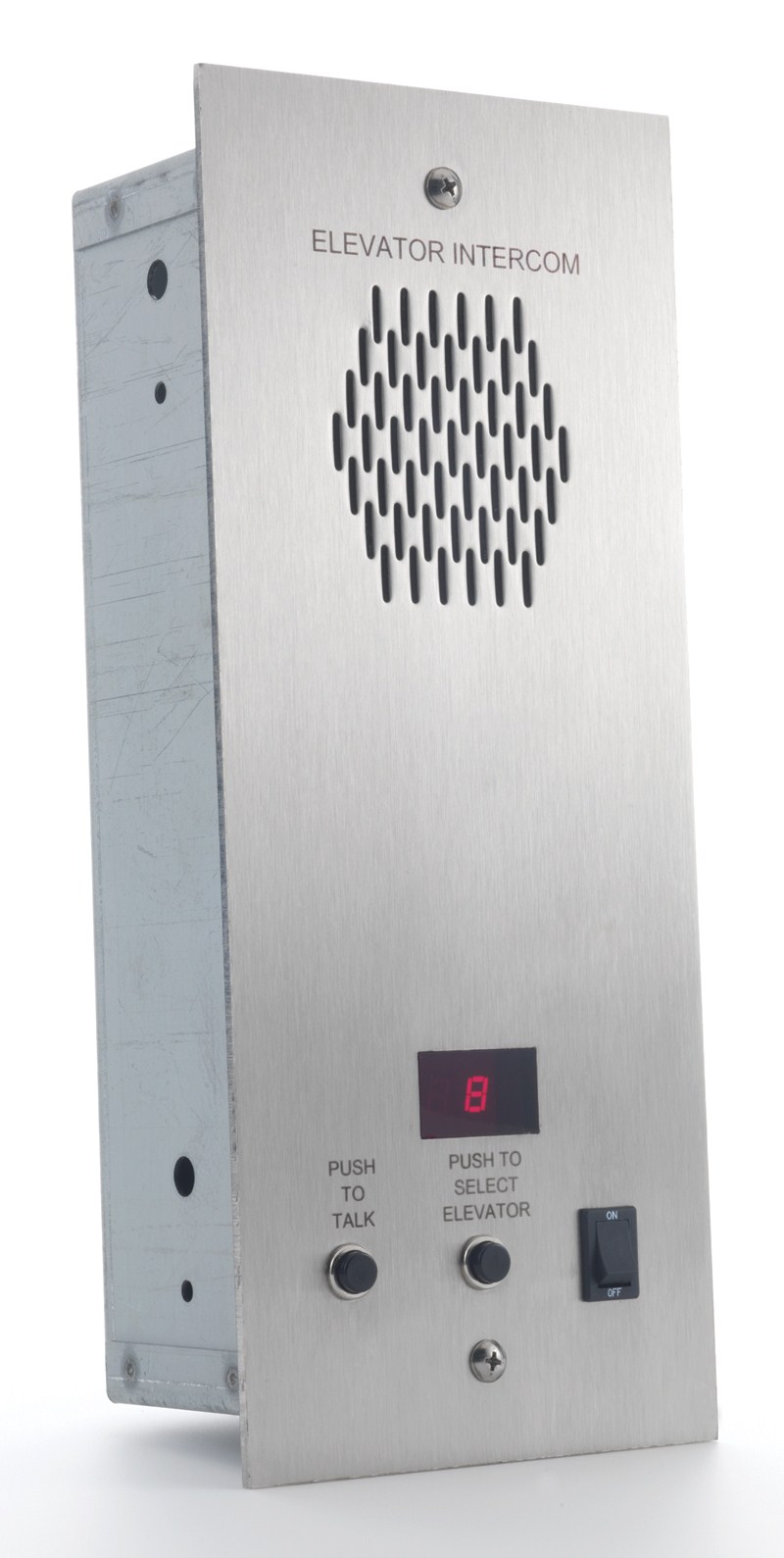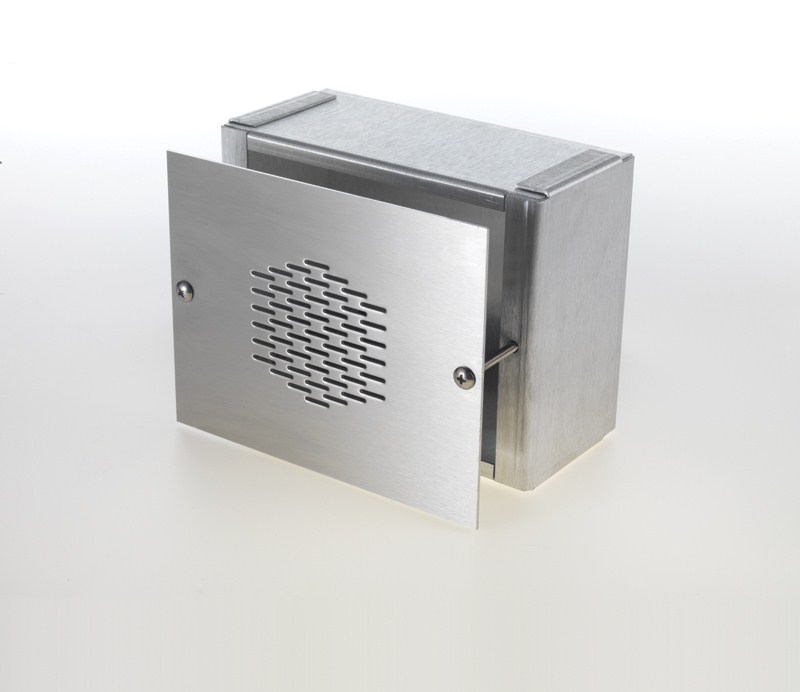 Flush mount hall station master, multi-car, Optional Car Ceiling Enclosure can mount
5" x 12" face, enclosure 2-7/16" deep above or just below the car ceiling
Overview: The power supply and, for multi-car, the selector board, mount in the controller. The master stations can mount wherever allowed by code, and the in-car amplifier with 3-1/2 inch speaker is designed to mount in the COP and must mount in the car. We will provide drawings so that your fixture manufacturer can shoot studs in advance.
Standard hall stations are flush mounted and machine room masters are surface mounted.
An optional surface mounted hall stations fixture is available or we will provide drawings for your custom fixture manufacturer.
See below for Features, Technical Information and available Options.
Features
Superior sound. Amplification at all master stations and car stations makes the Everclear intercom highly resistant to induced noise from low voltage lighting, door operators and other equipment.
Handsome fixtures with #4 brushed stainless and red 7-segment LED displays.
Completely independent of the telephone system. No phone lines to cause customers an ongoing expense. However, we can provide override of the emergency telephone system in the car where required.
In-use lights in the car station mount on the same panel as the Help button.
Vandal resistant fixtures with low profile controls.
The Everclear Intercom incorporates reliability and ease of installation with many safety features.
• No high voltage hoistway wiring.
• No expensive twisted shielded pairs or coaxial cable required. We recommend #18 wire. Saves installation time and money. If twisted shielded pairs are used, do not ground the shield.
• Controller mounted battery and charger. Charger wires directly to 120 volt AC. No outlet required. True current regulated battery charger (not just a power supply).
• 12-volt 5-amp-hour battery backup easily surpasses the 4-hour code requirement.
• Separate fuses for transformer primary, charger output and battery output.
• Required testing can be done by one person. On/off switch disconnects 120 volt AC power for safe battery testing and sound alert reminds that battery is in the test position.
• Color coded indicator LEDs facilitate testing.
More information is available on Test Features and Installation Tips.
Handsome surface mounted hall station for marble or masonry walls.
Ceiling enclosure for 3-1/2" speaker and amplifier. Aluminum enclosure with #4 brushed stainless face plate and pre-drilled mounting holes. Can be mounted above or below ceiling. A popular labor-saving option for when the speaker/amplifier cannot be mounted in the car panel.
See Pricing and our 3 Year Guarantee.